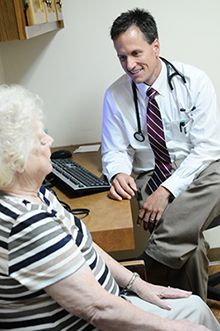 An Annual Wellness Visit is one of the most important items you can complete to help stay healthy and prevent disease. The Annual Wellness Visit (AWV) is a conversation between you and your doctor to discuss your health history and any concerns you may have regarding your health and to review your medications and immunizations. The goals of an AWV are to create a complete personal and family health history and to help prevent future health problems.
What to bring to your Annual Wellness Visit?
A list of all of your medications, including vitamins and supplements
Names of all of your healthcare providers, including doctors, pharmacists, therapists, home health agencies, and non-traditional providers
Your immunization records (for immunizations done outside our office), including flu or pneumonia shots
Your Annual Wellness Visit will be performed by one of our nurses and either your doctor or a nurse practitioner or physician assistant. You can expect your provider to discuss the following:
Establish or update your current medical and family history
List your current medical providers and suppliers and all prescribed medications
Record measurements of height, weight, body mass index, blood pressure and other routine measurements
Screen for depression and memory problems
Safety assessment including your risk for falls
Establish or update a screening schedule for the next 5 to 10 years including all appropriate cancer screenings and vaccines
Furnish personalized health advice and appropriate referrals to health education or preventative services
The AWV gives you and your doctor a complete picture of your health and what you need to do to be healthier so schedule your Annual Wellness Visit, have a great conversation with your healthcare provider, and stay healthy!
For more information or to make your Annual Wellness Visit, please call us now, 740-439-3515 or email, callcenter@medicalassociatescare.com.